Welcome to Life in Barnstable, Massachusetts.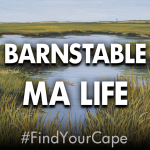 Barnstable takes its name from Barnstaple, Devon, England. The early settlers were farmers, led by the Reverend Joseph Hull, the founder of Barnstable. A memorial tablet was dedicated there in 1939 marking the site of his home and the rock from which he preached still stands along the highway there.
Barnstable, the county seat of Barnstable County, was one of the first towns to be settled in Plymouth Colony, one year behind Sandwich, in 1638, and was incorporated on September 4, 1639, the same day as the towns of Sandwich and Yarmouth.
Soon after the town's founding, agriculture, fishing and salt works became its major industries. By the end of the 19th century, there were some 804 ships harbored in the town. But the role of sailing ships declined with the rise of ocean-going steamships and the railroad, which had arrived in 1854.
Barnstable is the largest community, both in land area and population, on Cape Cod and contains several villages (one of which is also named Barnstable) within its boundaries.
Its largest village, Hyannis, is the central business district of the county and home to Barnstable Municipal Airport, the airline hub of Cape Cod and the islands of Martha's Vineyard and Nantucket.
The area was first explored by Bartholomew Gosnold in 1602. By the late 19th century, Barnstable was becoming world-renowned as the tourist destination and still is to this day. Many prominent Bostonians spent their summers on the Cape shores, as did presidents Ulysses S. Grant and Grover Cleveland.
The most well-known family of the 20th century to summer in the town was, and remains, the Kennedy family. Descendants still live in the Kennedy Compound in Hyannis Port, which was the summer home of President John F. Kennedy during his administration and the home of Senator Ted Kennedy.
Today, tourists come in droves to the town during the summer months to visit the the numerous shops, the John F. Kennedy Museum and several other museums, as well as to enjoy the numerous pristine beaches.
Places of Interest: Barnstable Superior Courthouse Long Pasture Wildlife Sanctuary Cahoon Museum of American Art Coast Guard Heritage Museum Sturgis Library Barnstable Old Gaol (Jail) Korean War Memorial Barnstable Historical Society Keyes Memorial Beach
View our official Barnstable community page at Barnstable.MA.Life