Welcome to Life in Eastham, Massachusetts.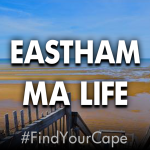 Originally settled by the Nauset tribe, Eastham was the site where in 1620 a hunting expedition landed, comprised from the crew of the sailing vessel Mayflower, which had stopped in Provincetown harbor on Cape Cod Bay after a rough crossing of the Atlantic Ocean, which led to the first encounter of the Pilgrims and the local Nauset people at First Encounter Beach.
The area would not be settled by Europeans, however, until 1644.
The original lands included what are now the towns of Truro, Wellfleet, Eastham, Orleans and a small portion of Chatham. Eastham town was officially incorporated in 1651.
EASTHAM TRAILS
Lamont Smith South Eastham Conservation Area
Cotton Acres Conservation Area
View our official Eastham community page at Eastham.MA.Life