Welcome to Life in Dennis, Massachusetts.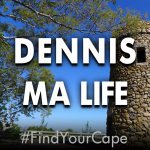 Dennis was first settled in 1639, by John Crowe (later Crowell), Antony Thacher and Thomas Howes, as part of the town of Yarmouth.
It was known then as the East Precinct. The original inhabitants who preceded English settlers and had a difficult time determining direction called the northern sections of town Nobscuesset, Sesuit, and Quivet, which would later become the villages of East Dennis, Dennis and South Dennis.
The town officially separated and incorporated in 1793. It was named after resident minister, Rev. Josiah Dennis.
There was not enough land for farming, so seafaring became the town's major industry in its early history, centered around the Shiverick Shipyard.
Dennis combines its traditional New England heritage with modern day conveniences and feature scenic historic districts hailing back to whaling days.
Currently, Dennis is a popular seaside resort town, notable for its stately colonial mansions along the northern Cape Cod Bay coastline, picturesque warm-water beaches and tranquil tree-lined streets meander through Dennis Port and West Dennis.
The Cape Playhouse, in northern Dennis, is one of the oldest summer theatres in the United States and among the best known. The actress Bette Davis was "discovered" while working there as an usher.
The north and south shores of the town have many beaches, as well as the Dennis Yacht Club in the north and West Dennis Yacht Club in the south.
Sixteen inviting beaches lie on the warm waters of Nantucket Sound to the south and on the crisp refreshing waters of Cape Cod Bay to the north.
Numerous recreation trails offer healthful relaxation, and well developed business districts throughout the villages provide ample goods and services.
Points of Interest:
Corporation Beach
Howes Street Beach
Scargo Beach
Princess Beach
Harborview Beach
Cold Storage Beach
Sea Street (East Dennis Beach)
Crowes Pasture Beach
South Village Beach
Haigis Beach
Glendon Road Beach
Sea Street (Dennis Port) Beach
Depot Street Beach
Inman Beach
Metcalf Memoria Seaview
DENNIS TRAILS:
Indian Lands Conservation Area

Fresh Pond Conservation Area

Quivet Neck and Crowe's Pasture Conservation Area

Romig-Jacquinet and Simkins Neck (Blueberry Patch) Conservation Areas

John Kelly Recreation Area
View our official Dennis community page at Dennis.MA.Life